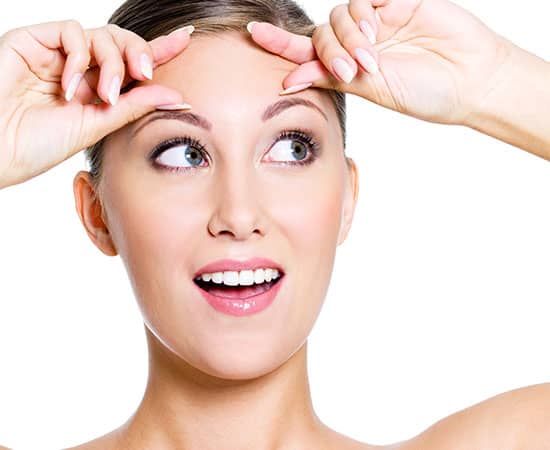 By now, you know that Botox is one of the best ways to keep those stubborn wrinkles and fine lines at bay. But exactly how much Botox will you need to smooth away forehead wrinkles and crow's feet – and how much Botox is too much?
The number of Botox units you'll need is determined by a number of factors, including:
Your age
The number of areas you'd like treated
Your gender (men tend to need more Botox – more on that in a bit!)
Your desired results
Therefore, you should make sure you get Botox injections from a Board Certified plastic surgeon who takes the time to understand and account for these factors. Without this care and attention, it becomes too easy to accidentally inject too much Botox – leading to the dreaded frozen face!
If you want to preserve natural forehead movement, it's recommended that you undergo fewer Botox injections. While it won't completely eliminate every forehead wrinkle, it does preserve natural movement for a less "done" look.
Patients with stronger forehead muscles will typically need more Botox, which is why male patients often need more Botox to smooth away wrinkles and fine lines. Males tend to have stronger facial muscles. Additionally, a patient with a larger forehead will need more Botox.
Finally, the quality of your wrinkles and fine lines will ultimately determine how much Botox you need. If your wrinkles are deep-set, you'll need more Botox to achieve a smoother, younger-looking appearance.
To help make some sense out of how much Botox is required per facial area, this list is often helpful:
Forehead lines: 10-15 units
Eyelid Lift: 2.5-5 units/side
Crow's Feet 5-12.5 units/side
Frown or Glabella area: 10-25units
Bunny/Nasalis lines: 5-10units
Smile lift/Corners of mouth: 2.5-5units/per side
Chin: 2.5-5 units
Board certified plastic surgeon, Dr. Sean Doherty, specializes in Botox injections in the greater Boston, MA area. Dr. Doherty has two offices in downtown Boston and Brookline, MA. Schedule a Botox consultation by calling the Boston office at (617) 450- 0070.