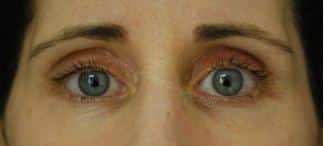 As a board-certified plastic surgeon, Dr. Sean Doherty (serving the greater Boston, MA area) is often asked by patients about his top recommendations for non-surgical eye care. These questions usually come from a place of curiosity, as patients want to know how to preserve their surgical results or simply want advice on how to maintain a youthful visage without resorting to surgery right away.
With this in mind, Dr. Doherty has developed the following recommendations on non-surgical ways to treat your biggest eye woes:
Stay hydrated: It seems like such a basic piece of advice, but it's one of the best ways to keep those bags and dark circles away from your eyes. Under eye bags often form when an individual isn't taking in enough water; commit to drinking eight to ten glasses of water each day, and you'll find that your bags aren't as severe. Bonus: drinking plenty of water can help clear your skin, reduce water retention, and even perk up your energy levels.
Use caffeine: Caffeine is often essential for making it through the work day – but if you want to combat your eye problems, look for eye creams that contain caffeine. According to Dr. Doherty, the caffeine in under eye creams can help decrease the swelling, thus reducing the prominence of the eye bags.
Stop smoking! If you're still smoking cigarettes, it's time to kick that nasty habit once and for all. Dr. Doherty points out that smoking makes all the blood vessels around your eyes stand out more, which will make you look tired, haggard, and desperately in need of a good night's sleep. Speaking of which…
Get more sleep: Whether you have puffy eyes or dark circles, committing to getting more sleep can help relieve many of your biggest eye woes. The point here is quality sleep – after all, you're not getting the sleep you need if you're surfing your smartphone under the covers.
Use sunscreen: If you want to protect the delicate skin around your eyes – as well as the rest of your skin! – use sunscreen with an SPF of 30 or higher.
Cut down on salty foods: Salty foods make you retain water, which can cause lower eyelid swelling. When you cut down on salty foods, your eyes will look younger – not to mention you'll be able to fit into your skinny jeans.
To see if there are other things you can do with your eyes, schedule a consultation with Dr. Sean Doherty at his Brookline, MA practice (also serving the greater metro Boston area). To learn more call (617) 450.0070 or leave us your info the top right corner form.