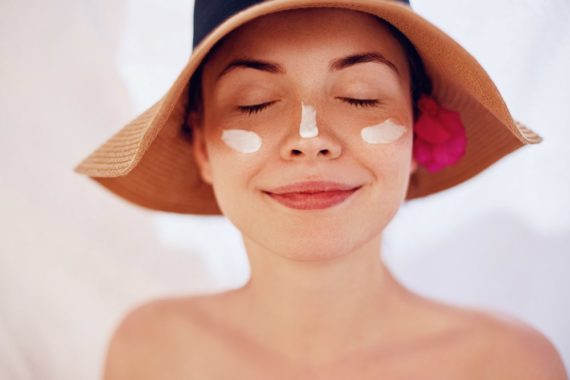 My vocation, at its core, is about helping my patients to look and feel their best. Typically, this entails one of two things. I am either working with you to prevent the early signs of aging or erase them altogether. And though I have lots of tools in my tool chest for rejuvenating a patient's face and body from non-surgical procedures like laser skin resurfacing to surgical procedures like liposuction, the best anti-aging tool around is also one of the easiest — sunscreen.
I think that we can all agree that the sun is a marvelous thing. Without it, we'd die which, having grown up in Boston, is how most of us are feeling come April. Our bodies are literally craving the vitamin D that gets produced when our skin is exposed to the sun's rays. But if you use this fact as an excuse to ditch the sunscreen, here are some hard truths:
• it only takes 10 minutes of sun exposure to get your daily dose of D
• vitamin D can be found elsewhere in both food and supplements
• the sun's rays (UV light) are the number one skin ager resulting in fine lines & wrinkles, brown spots, uneven texture and sagging
Sunscreen Can Help Prevent Sagging
Most of us want to look as youthful and vital as possible. Part of this may be vanity, but I would argue that a much bigger part of this desire comes down to self-esteem. When you look in the mirror and your skin is smooth, plump and glowing, you feel better about yourself. Having great skin is like waking up every morning to a big old shot of self-confidence. And when we start off the day feeling good about ourselves, that confidence tends to carry over into other aspects of our lives such as our job and our relationships.
While we're all born with smooth, plump skin, its underlying foundations of collagen and elastin begin to decrease starting in our mid-20's. These two are kind of like the fountain of youth. Collagen is the strength component of skin. It keeps the skin looking firm, taut and smooth while elastin allows it to stretch out when we smile, for example, but then snap back into place. Increasing your skin's ability to produce both of these is a huge component of many of the most effective non-surgical modalities like the Profound procedure which is a combination of radiofrequency (RF) and Micro-Needling. But one of the simplest ways to protect these two pillars of youth is to limit your skin's exposure to UV light as it greatly accelerates the breakdown of both collagen and elastin. The result is sagging, droopy skin. In a study done on twins, the one with more sun damage was perceived as being 8-16 years older than the one with less. That's a decade of extra aging. If this doesn't get you reaching for the sunscreen, I don't know what will.
Important Facts about Sunscreen
Since most of us don't want to live a life indoors (not that this completely protects you from the sun's damaging rays as UVA light does penetrate glass), the best way to keep your skin safe is the daily use of a good, broadband sunscreen. By good, I mean one that protects against both UVA and UVB rays and has an SPF of at least 30. I know that many health professionals and beauty magazines say SPF 15 is enough, but here's the deal: no one applies enough sunscreen.
It takes an ounce of sunscreen, which is about a shot glass full, for it to live up to its advertised SPF. If you were applying enough, you would go through a bottle of sunscreen a week. Since almost no one uses this much, it is always better to go a bit higher on the SPF so that you are getting enough protection. Personally, I don't think that you need to go above an SPF 50.
Furthermore, sunscreen typically only lasts about 2 hours so the SPF lotion that you apply in the morning is no longer effective come lunch time. This is why it is imperative that you reapply during the day. I often recommend a mineral powder to my female patients as it can be worn over makeup without making things messy. Sunscreen is also most effective when combined with a broad-rimmed hat and large sunglasses. It's a glamorous look — embrace it!
Mineral vs. Chemical Sunscreen
The other big consideration when it comes to sunscreen is mineral versus chemical. This debate comes down to the ingredients that protect your skin from the UVA/UVB light. Most conventional sunscreens use chemicals such as oxybenzone. They work by causing a chemical reaction that turns the UV rays into heat which is then released from the skin. The main advantages of a chemical based sunscreen are that it's convenient and easy to apply. The disadvantage is that it takes about 20 minutes for the protection to kick in so you need think ahead. It's also thought that these chemicals may be damaging to the environment which is why they've been banned in Australia as they may affect the coral reefs.
Mineral sunscreens, on the other hand, do not harm the environment. They use some form of zinc oxide to physically block the UV rays from penetrating your skin. The nice thing about this fact is that you don't need to apply a mineral sunscreen ahead of time for it to do its job. The bad thing is that mineral sunscreens are typically more difficult to apply. They're thick and white and hard to rub into the skin. Some of the newer brands go on more smoothly, but none are as easy to use as a chemical-based sunscreen.
Elta MD is a Favorite
Until there is a purely mineral-based sunscreen that is easy to apply over treated skin, my sunscreen of choice is Elta MD. My dermatology colleagues recommended it and I love the Elta MD line for both myself and my patients. Their products are fragrance-free, extremely effective and gentle enough to use on laser treated skin or skin that has undergone surgery. Elta MD uses a combination of both dissolvable zinc and octinoxate so it has the advantages of both a mineral based and chemical-based sunscreen. This means that even their SPF 50 lotion dissolves quickly into your skin.
I really like the Elta MD Body Spray because it goes on white and then fades into the skin. Most sprays are clear so it's impossible to tell which areas you've hit and which ones you haven't. The most important thing with sunscreen, however, is to find one that you like. Why? Because if you like the way it looks, feels and smells then you will use it. Every day. Rain or shine.
Regular Sunscreen Use Improves Skin Texture
Getting into the habit of applying sunscreen every day is the single greatest thing that you can do to prevent the early signs of aging such as:
Sunspots
Redness
Crepey, uneven texture
Fine lines & wrinkles
Sagging skin
Broken blood vessels
Furthermore, it will continue to protect your skin from further damage. And when you have good skin tone and texture, it will not only make you look and feel better, but if you do decide to have some rejuvenation done, it gives me the ideal canvas on which to work. So, the next time that you're craving a "healthy" looking suntan, buy a bottle of self-tanner instead. Trust me, it's truly the healthier option.
To find out more about skin care and sunscreen with Dr. Sean Doherty at his Boston or Brookline office, contact us today or call (617) 450-0070 to schedule a consultation.