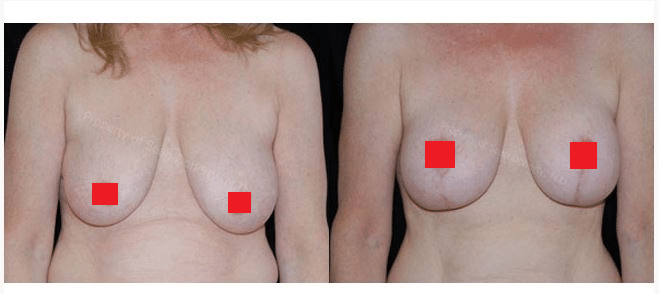 When you're dealing with breast ptosis – a term that's used to describe breasts that sag due to lost volume – it may feel as though that's all anyone ever looks at. While your loss of volume might tell a fascinating story about who you are as a person (for example, you lost a considerable amount of weight and you're proud of it, or you gave birth to a couple of amazing children that you love with all of your heart), sagging breasts can, well, sag your self-esteem.
If you're considering plastic surgery to correct the issues, it's important to note that there is a plethora of options out there available to you. At Dr. Sean Doherty's cosmetic surgery practice in Brookline, MA – also serving the greater Boston metro area – the board-certified plastic surgeon has a number of treatments that can help address common concerns for women who are suffering with ptosis. These options include the following:
The traditional breast lift. Dr. Doherty can use this procedure to effectively "lift" the appearance of the breasts, resulting in a more youthful-looking chest. During the breast lift, Dr. Doherty repositions the nipple so that it matches the new position of the breasts. Dr. Doherty can also trim any excess skin during the procedure, thus creating a natural look that doesn't hint at signs of surgery. However, it is important to note that this procedure does carry some risks with it; namely for surgical scars and eventual loss of volume. You should discuss your concerns with Dr. Doherty during the initial consultation stage.
A traditional breast lift with implants. Dr. Doherty can use implants to replace lost volume and firmness in your breasts, resulting in a bustier appearance that will restore your confidence levels. However, it's important to note that the risks of surgery are similar to the breast lift, in that you could have surgical scars. You should also prepare to maintain your augmentation results after several years.
A breast augmentation can also be a viable option for patients who may not want to deal with the apparent scars that can come hand in hand with a breast lift. Memory-shaped gel implants have a high success rate for women with ptosis, as it repositions the nipple to where it should be.
For more information about your treatment options for ptosis, schedule a consultation with Dr. Doherty today at his plastic surgery center in Brookline, MA, serving the greater metro Boston area. Just give us a call at (617) 735.8735 or fill out the form in the top right corner.