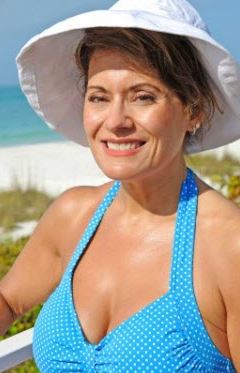 The dog days of summer have finally come to an end – and that means we're preparing for pumpkin coffee drinks, holidays, and costume parties. Yet there's one fall tradition that many people would rather not deal with: Checking all the summer sun damage that's adding up on their facial skin.
Days spent basking in the summer sun might feel nice, but they can certainly wreak havoc on your efforts to maintain a youthful and line-free visage. Now that summer's done, it's time to start repairing the damage caused by cookouts, parties, and beach days.
Sean Doherty, MD is a board certified plastic surgeon operating in Brookline, MA (also serving the greater Boston area). Dr. Doherty is highly experienced in helping patients peel away damaged and pigmented skin, which is often caused by spending time in the sun without proper protection. To help erase signs of too much summer fun – and not enough summer protection! – follow Dr. Doherty's skincare recommendations.
Use a simple but effective skincare regimen. Cleansing your skin twice a day, using a moisturizer during the day, and applying a hydrating night cream before bed can do wonders for repairing your skin. Add an exfoliant up to three times each week to slough away dead skin. Add a vitamin C serum or Retin-A prescription to help fade sunspots and encourage healthy skin growth.
If you need something more aggressive to counteract your days spent in the summer sunshine, Dr. Doherty recommends following a more aggressive skincare regimen. At his cosmetic surgery practice in Brookline, MA, Dr. Doherty can treat the skin once it's been six weeks from the most recent sun exposure. Dr. Doherty uses a combination of IPL and 1540 lasers for the full face. This treatment is carried out once a month for at least three months. The IPL is highly effective at treating brown spots, while the 1540 is a non-ablative fractional treatment that rejuvenates facial skin via thermal reaction. This means that during the treatments, your collagen production levels will be reinvigorated, thus revealing undamaged skin faster.
During the fourth month, Dr. Doherty can prepare your skin for the holiday season with ablative and non-ablative treatments.
To learn more about erasing summer damage, or to schedule a consultation, contact Dr. Doherty at his cosmetic surgery practice in Brookline, MA, also serving the metro Boston area. Just fill out the form in the top right corner or call (617) 735.8735.