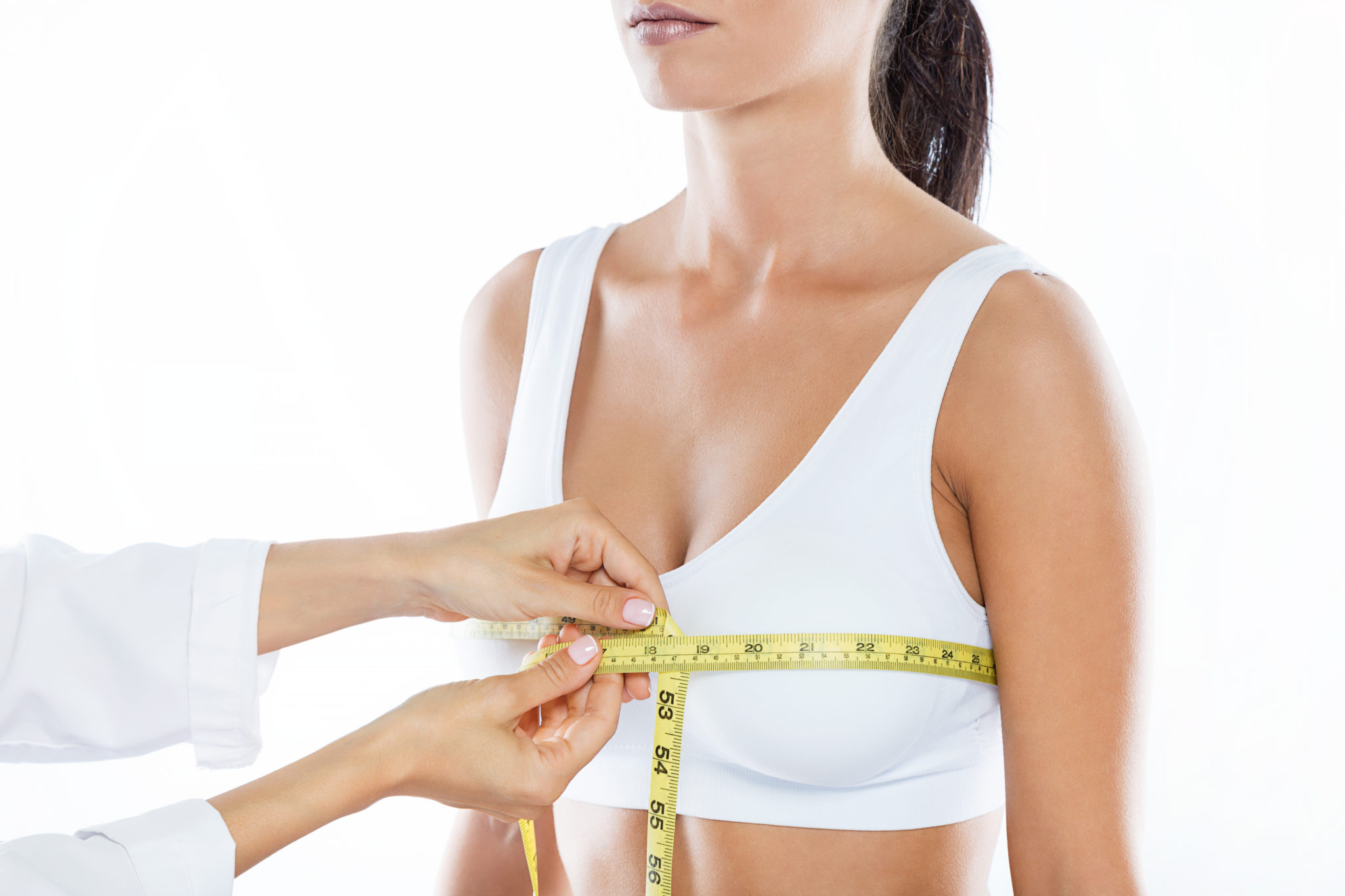 Typically, one of the first things that a potential breast augmentation patient says to me during our initial consultation is: "I want to be a C or a D cup". I then review why bra size does not necessarily equal breast volume. Bra size is not a good measurement of breast volume for a couple of reasons. First, while bras are worn by women all over the world, there is no universal, international standard when it comes to bra sizing. This is frustrating because it means that a 34D bra that is made in Europe, for example, is not going to be the same as a 34D bra that is made in the United States. Second, the individual characteristics of your breasts, such as shape, symmetry and firmness, will also affect how a specific bra fits your body. So, you cannot create a bra size with surgery. However, you can create breast volume with a breast implant.
Breast Volume = Breast Implant CC's
The size or volume of a breast implant is measured in cubic centimeters or cc's for short. The higher the number of cc's, the larger the implant. But, as with everything related to breast implants, it is not always that straightforward. This is because there are a host of other factors that go into determining which breast implant will deliver the correct volume for your unique needs. These include:
size
shape
projection
fill
type (saline or silicone)
It usually takes about 150 – 200 cc's to go up a cup size. However, some patients require 300 cc's.
Breast Footprint Dictates Implant Size & Shape
Figuring out how much volume you are able to have is my job. I do this by first listening closely to what, exactly, you hope to achieve with a breast augmentation. I will spend a lot of time discussing the "look" that you want. I encourage my patients to bring in photos of breasts that they like as well as photos of breasts that they do not like. Both can be extremely helpful in clarifying our communication. Making certain that we are both on the same page in terms of your look is a critical component of an exemplary outcome.
No implant looks the same on any two patients. Choosing the right one for you is part science and part art. The science part is nonnegotiable. Any implant has to fit within your breast footprint. This is the base width of your breast which is measured from the side of your torso to the middle of your chest. Furthermore, a breast implant must be centered behind your nipple. If your nipple is still lifted and "perky", you can increase your breast volume with an implant alone. However, if your nipple hangs down, you are probably going to need a breast lift in addition to an implant.
Going too Big Can Lead to Problems
I always give my patient a range of breast implants that I think will work for her. I am also always honest if I feel that you want a breast implant that is too big. Many times, in order to avoid a breast lift, patients will ask for a bigger implant. This never works out long-term. First, the factors that have contributed to your nipple heading towards the floor such as:
pregnancy
breastfeeding
weight gain/loss
age
These factors have placed stress on the skin and tissues of your breast, causing them to weaken and sag. Placing a too large implant into tissue that is already compromised may give you a short-term benefit. But quickly, your weak tissue is going to break down further. And that large implant is going to move out of position. This will look weird and make you unhappy. My goal with every breast augmentation is to deliver a natural looking, long lasting result.
Get Your Money's Worth
Breast augmentation cost is something that I always keep in mind with every patient. This is a procedure that delivers a lot of bang for the buck, but only if your results are long lasting. It makes no sense to spend many thousands of dollars putting in an implant that is too big as it will not stand the test of time. When you choose an implant that works with your anatomy, your results can last decades. Gone is the axiom that the life of an implant is 10 years. I have patients who have had their breast implants for 20 years or longer. It is more likely that your aesthetic will change before there is any actual physical need to replace your breast implant.
So, let go of the fixation on cup size, and let's find the implant that creates the best version of your breasts. To find out more about a breast augmentation with a breast implant with Dr. Sean Doherty at his Boston or Brookline office, contact us today or call (617) 450-0070 to schedule a consultation.