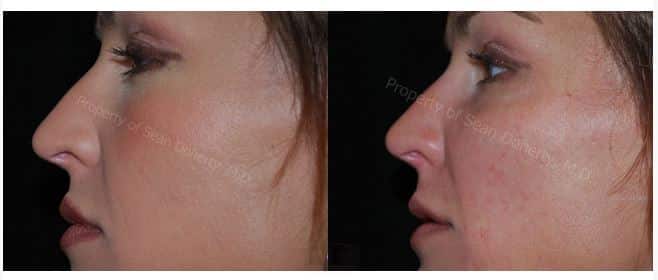 Feeling confident and attractive may come from within; however, if your skin looks older and more tired than you feel, you may want to consider a little assistance in achieving your ideal visage. While skin creams and moisturizers can help you look fresher and more revitalized, turning back the clock may often require the assistance of injectables.
Injectables are often more popularly known by their brand names, including (please add trademark symbols) BOTOX®, Dysport®, JUVÉDERM®, RADIESSE®, and other similar products. Injectables may range in terms of ingredient and result, but there's one thing that they have in common: they're formulated to help promote a more youthful and refreshed complexion. Neurotoxin like BOTOX® and Dysport® help soften facial lines. Fillers like Restylane Lyft®, Restylane®, JUVÉDERM®, BELOTERO® and RADIESSE® help provide volume that is often last with facial aging. Faces with softened line and improved volume are younger appearing.
At Sean Doherty, MD – located in Brookline, Massachusetts and serving the greater Boston metro area – Sean Doherty, MD and his team of experts offer a range of anti-aging skin treatments, including injectables. By offering a diverse selection of injectables, Dr. Doherty can assure Boston patients that they'll achieve their desired results. These injectable treatments include the following:
BOTOX®: This is perhaps one of the more popular injections, and for good reason: it's highly effective at reducing the look of fine lines, wrinkles and creases. Botox works by relaxing the muscles in the treatment area, which causes the facial skin to relax and the appearance of wrinkles to fade. Botox injections typically last between three to six months.
JUVÉDERM®: This dermal filler treatment contains hyaluronic acid, which is a natural compound that can be found in the dermis. When hyaluronic acid levels are depleted, the skin becomes deflated, dried, and loses its elasticity. After injecting Juvederm into the treatment areas, your facial volume will increase, thus reducing the look of wrinkles and creases. Juvederm can be used to improve the nasiolabial folds and lips, as well as other facial areas.
RADIESSE®: This skin injectable is different from other treatments in that it acts like a semi-solid soft tissue implant. When Radiesse is injected into the treatment area, the dermal filler behaves as a durable gel that flows into the skin, thus promoting a smooth and youthful look. What's more, Radiesse results typically last longer than other hyaluronic acid dermal fillers, with many patients going for a year without needing another treatment.
Restylane®: This natural dermal filler contains hyaluronic acid, which is commonly used to treat facial lines, wrinkles, and creases. Additionally, Restylane is a popular choice for patients who want to increase facial volume. Restylane is injected much like Juvederm is. Currently, Restylane is the only filler approved by the FDA for lip volumization.
Restylane Lyft®: This skin injectable is considered to be a "mid-dermal" hyaluronic acid filler treatment, which makes this an ideal choice for more severe wrinkles and creases. Restylane Lyftis injected deeper into the dermis than other injectables, which helps restore facial volume as well as diminish the look of facial wrinkles and folds.
If you feel that you have wrinkles and fine lines that require professional help, contact Dr. Doherty at Sean Doherty, MD in Brookline, MA today. We serve the entire Boston metropolitan. To learn more simply fill out the form in the top right corner or call (617) 735.8735.