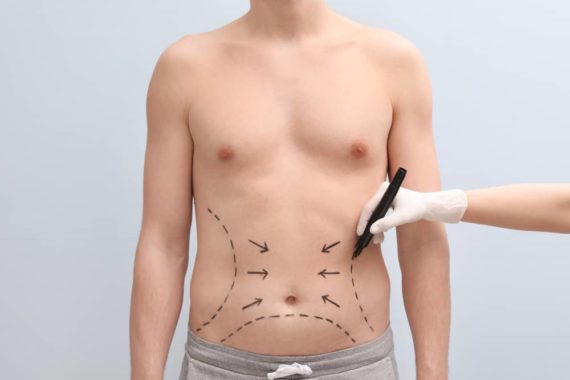 Getting older can have its advantages. You are probably more comfortable in your skin, settled in your career, and less likely to sweat the small stuff. However, many of us also begin to put on some extra pounds once we reach our 30's, 40's and 50's. The last year and a half of excessive sitting and stressing certainly hasn't helped. The term "Dad bod" refers to the poochiness that can creep up on even a relatively thin man. And you do not have to be a Dad to experience this phenomenon. A huge portion of my practice is devoted to body countering procedures that help fit, healthy men get rid of the excess pockets of fat that distort their body contour. While there are effective non-surgical options, here's why liposuction is a great body contouring procedure for men.
Liposuction is the Gold Standard
Everything that I do as a plastic surgeon and body contouring expert is about restoring or creating proper proportion. When you look at your reflection in the mirror and are bothered by that rubber tire around your middle, it's because the human eye is hard wired to find harmony and symmetry attractive. When those body lines are thrown off by a little extra fat in your:
It can have an adverse effect on how comfortable you feel in your skin and, therefore, your self-esteem. Liposuction is the gold standard in body contouring because it allows me to precisely sculpt your contour into its proper proportion. This is always individual to the patient's unique anatomy. Some areas may require the removal of more fat than others, and I may even combine liposuction with fat grafting as I am literally creating peaks and valleys. If loose skin is also an issue, I may combine your liposuction procedure with Renuvion®. This is a radiofrequency (RF) device that encourages skin tightening.
Two Most Popular Areas for Liposuction on Men
Liposuction can be performed anywhere on the body where there are pockets of excess "pinchable" fat. This is fat that when you grab it, you can actually pull it away from the body. Visceral fat, on the other hand, is the kind that wraps around your organs. It is considerably worse for your health, and can only be addressed through diet and exercise.
While men generally shy away from surgery as most don't want to deal with the downside of recovery, men also want results. This is particularly true when it comes to the body. In general, men are taking better care of themselves these days — eating a healthful diet and exercising regularly. So, they are willing to put up with a little downtime if it will eliminate the pooch. The two most popular areas for liposuction for men are the:
360° Degree Approach
The abdomen is probably the most common trouble spot for both men and women. But your abdomen does not exist in isolation. This is why I always take a 360° approach with any body contouring procedure. Returning your torso to proper proportion will entail addressing excess fatty deposits in your abdomen, but I may also need to address your flanks, back and, the other most common treatment area for men, the chest.
Liposuction & Gynecomastia
Gynecomastia is one of my specialties. Often referred to as "man boobs", gynecomastia is an excess of fat, glandular tissue or both in the male chest. It is extremely common affecting approximately 36% of young men and 57% of older men in the Boston area. No man wants boobs. This is especially true today where the ideal male aesthetic includes a broad, flat chest.
I always begin with an in-person consultation in order to determine what your gynecomastia actually entails. If you are overweight, I will recommend lifestyle changes such as a healthier diet and regular exercise regime. Oftentimes, this will take care of the issue. However, in men who are at or near their ideal weight, but who have "man boobs", liposuction can be a great option for restoring a smooth, flat chest. I perform it as a stand-alone procedure in cases where fat alone is causing the gynecomastia, and combine it with a male breast reduction in cases where the gynecomastia is the result of both excess fat and excess glandular tissue. While every gynecomastia sufferer would like to address the issue through liposuction alone, my job is to perform the procedure that is actually going to fix your issue.
Pros of Liposuction
The main benefit of liposuction is that it works. Furthermore, assuming that your weight stays stable, these results are permanent. I can also often perform my liposuction procedures under local anesthesia in the office depending on how much fat needs to be addressed, and whether or not we are combining it with another procedure. Liposuction does involve a couple of small incisions through which I place the cannula, but they are tiny and typically heal without incident.
Cons of Liposuction
The main downside of liposuction is that it requires time for recovery. How much is going to depend on the body area that we treat and the amount of fat that we remove. You are going to be bruised, swollen, and need to wear a compression garment for a few weeks following your procedure. However, most patients find this to be a small price to pay for a body contour that makes them feel fantastic.
Liposuction is also not a weight loss procedure as many patients believe. While it can successfully contour your body, assuming that you are an appropriate candidate, it will often times not change that number on your scale. The most successful liposuction Boston patients are the ones with reasonable expectations who use liposuction as an incentive to trim down further on their own. This weight loss will help highlight the benefits of your liposuction procedure and knock your results out of the park!
To find out more about a liposuction procedure for men or any other surgical or non-surgical procedure with Dr. Sean Doherty at his Boston or Brookline office, contact us today or call (617) 450-0070 to schedule a consultation.