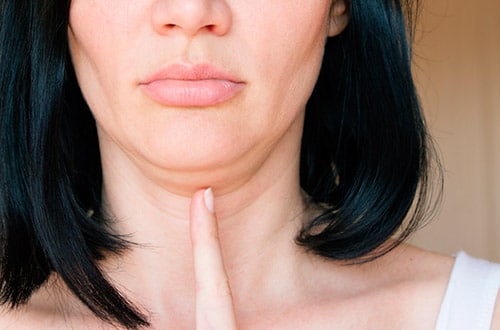 The neck and jawline are problem areas for many patients, both male and female. Not only is a crisp, defined jawline associated with a more youthful looking appearance, but in a 2017 study conducted by Allergan, it was found that patients with a double chin were incredibly self-conscious about it. Both men and women reported that excess fat under the chin adversely affected their self-esteem, making them avoid photographs, video conferencing and even wearing certain clothes.
As the first doctor in the Boston area to offer my patients Kybella®, Allergan's injectable for eliminating submental fat under the chin, as well as a surgery and liposuction expert, I have extensive experience in treating a double chin. The most confusing thing for most patients who come in to see me about one is figuring out which procedure to get: Kybella® or liposuction. While many patients, particularly men, prefer the idea of Kybella® as it is non-surgical, it all comes down to choosing the right procedure for your individual anatomy. Proper patient selection is truly the key to an exemplary result. This is why I always begin with an in-person consultation where I can physically assess the underlying causes of your double chin.
What Causes a Double Chin?
Everyone carries fat in certain areas of the body, even thin people. It all comes down to our genetics. For some patients, this area is located under the chin. This is why I often see younger patients with really taunt skin tone who still have a double chin. In general, however, a double chin is most often the result of aging and/or weight gain. Over time, the amount of collagen and elastin in the skin diminishes. The latter is what allows your skin to "snap back" into place after you smile or laugh. Furthermore, certain lifestyle choices such as:
Sitting in the sun
Smoking
Poor diet
Weight gain/loss
… all can further hasten the deterioration of your skin's elasticity. The end result is sagging, loose skin, particularly in the lower face. At the same time, age weakens the platysma muscle which is the major muscle in the neck. It starts to separate, particularly at the mid-line. When this happens, it can make even the slightest blip of excess fat under the chin suddenly look huge. It's really this 1-2 punch that brings patients into my office complaining about their double chin. So, which procedure is going to be best — Kybella® or liposuction?
Are You a Candidate for Kybella®?
The ideal candidate for Kybella® is someone with an isolated pocket of extra fat who still has enough elasticity in the skin for it to properly re-form over your new, leaner jawline. If your entire neck is thick with extra fat, liposuction is probably going to be a better option as it can effectively treat a larger piece of real estate. However, some patients simply do not want a surgical procedure. I get it. With them, I am always extremely honest about what they can actually achieve with Kybella®. This is an injectable that was specifically designed to address just a small bulge of extra fat under the chin. So, while it is possible to inject Kybella® over a larger area, it can get time-consuming and expensive. Bottom line, though, it is up to you to decide what is best for your lifestyle.
Kybella® vs. Liposuction
When making a decision about the right procedure for treating your double chin, it is important to realize that there are pros and cons to both Kybella® and liposuction. The benefits of Kybella® are that it is:
Effective in the right patient
Fast office visits
No incisions
Non-surgical so no general anesthesia
Requires no downtime for recovery
However, it is not a one-and-done procedure. Kybella® requires multiple treatments. Most patients will need at least 2, spaced about 8 weeks apart. Some patients, especially men, may need 3-5 treatments for full correction. Each treatment will require anywhere from 2 – 3 vials of Kybella® which can make the procedure expensive.
Liposuction, on the other hand, gets rid of your fat in one fell swoop. It gives me the greatest access so that I can literally re-sculpt your jawline. It is surgery though… While liposuction can sometimes be performed under local anesthesia, and the incisions are so small that you won't even need stitches, it does require:
Downtime for recovery
A compression garment
Temporary bruising and swelling in the treated area
Liposuction & Loose Skin
The other potential drawback to liposuction is that if you have loose skin in your neck, it may make the situation worse. This is why I will often combine liposuction with some sort of radiofrequency (RF) treatment to tighten the skin. We offer a couple of really effective options in our Boston area offices including:
ThermiSmooth®
ThermiTight®
Profound®
All are non-surgical, but ThermiRF utilizes RF energy on its own while Profound® combines RF energy with micro-needling to address both your skin tone and texture. Thermi is done at the same time as liposuction while the Profound® procedure would be done separately. As with everything, the right option is going to depend on your needs. The nice thing is that today, we actually have effective modalities for tightening the skin without having to resort to a surgical neck lift.
So, if your double chin is making you feel down, come in to speak with me about the best options for cleaning up your jawline. It is one of those simple fixes that can really deliver a powerful anti-aging punch.
To find out more about Kybella, liposuction, ThermiSmooth Boston and radiofrequency with Dr. Sean Doherty at his Boston or Brookline office, contact us today or call (617) 450-0070 to schedule a consultation.