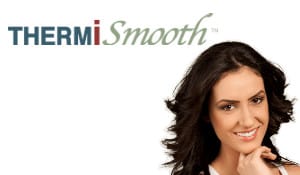 ThermiSmooth™ is a procedure performed by nurses or aestheticians utilizing ThermiRF™ radiofrequency skin tightening technology to treat skin laxity. This treatment improves the appearance of aging skin through stimulating collagen production over a period of time. It is ideal for treating the problem areas around the eyes and mouth. ThermiSmooth is non-invasive with no downtime.
During a series of treatment, a temperature regulated probe is applied externally to the skin in order to safely heat the skin to the desired level (42-44°C). Warming the skin to this temperature induces skin tightening. This skin improvement occurs by way of collagen contraction and remodeling. Patients see results in 2 to 12 months after their series of 4 treatments. The exact number of treatments depends on the patient and the tissue being treated.
The most commonly treated areas are the upper and lower eyelids, the mouth area and the neck.
How does ThermiSmooth™ work?
The procedure is performed in the office by a nurse or an aesthetician. For some patients, numbing cream may be applied prior to the procedure. The ThermiSmooth™ probe is applied to the surface of the targeted skin. The skin is then safely heated to the desired temperature (42-44°C). Monitoring of external skin temperature is performed to ensure even distribution of heat. Radio-frequency energy is used to precisely heat targeted areas on the skin which will stimulate the production of new collagen. ThermiSmooth™ uses a thermal imaging camera and is the only FDA-approved device that can regulate the exact amount of energy necessary to achieve tightening of the skin without the possibility of a burn.
What can be expected during and after the treatment?
Most procedures take about 30-45 minutes. ThermiSmooth™ treatments can be easily and safely combined with some facial treatments or microdermabrasion if desired. Patients will see mild redness and swelling for a few hours after the treatment. Make-up can be applied right away. Patients of all skin types are candidates for this treatment.
Can ThermiSmooth™ be performed in conjunction with injectables?
ThermiSmooth™ is a procedure that has minimal downtime. It can improve fine lines, wrinkles, and crepy skin laxity of the eyelids, upper and lower lips, and the neck. Combining ThermiSmooth™ with other techniques such as Botox injections or injectable fillers can further improve results.
Does ThermiSmooth™ hurt?
Patients report this is a well-tolerated procedure with little to no downtime. Energy is applied to the skin and patients experience a mild, warming sensation, most patients say the treatment is relaxing and enjoyable. Total treatment length averages 20 to 30 minutes, depending on the area.
How often should the treatment be done?
ThermiSmooth™ achieves the best results when performed in a series of 4-6 sessions. These should be done every two weeks. Patients may resume normal activity immediately.
How long do the results last and do you have to repeat the procedure?
The goal of ThermiSmooth™ is to tighten the fine lines and skin laxity and turn back the clock. However, the result is not frozen in time. The aging process will gradually progress. For maintenance, we recommend one treatment session every six months after the initial 4 weekly sessions.
How much downtime is there?
There is no downtime with ThermiSmooth™ and full activities can be resumed the same day.
How much does the treatment cost?
The cost of this treatment varies depending on the areas to be treated. Please call our office at 239-594-9100 to schedule your consultation.
Who performs the ThermiSmooth™ procedures at our practice?
All ThermiSmooth™ procedures are performed by one of our licensed aestheticians, under physician supervision. Our aestheticians will personally use their skills and expertise in ensuring the best outcome possible for you.
How do I know if ThermiSmooth™ is the right procedure for me?
ThermiSmooth™ is a procedure that meets a certain need and is best suited for those individuals with fine lines and wrinkles and/or crepy skin. It will not offer a surgical type of result, but has no downtime and is an office-based procedure performed without any anesthetic. For those patients who are not candidates for surgery or laser resurfacing (either because of skin type, cost, recovery time, etc…), ThermiSmooth™ offers a viable option. An individual consultation is the best way to determine if ThermiSmooth™ is right for you.