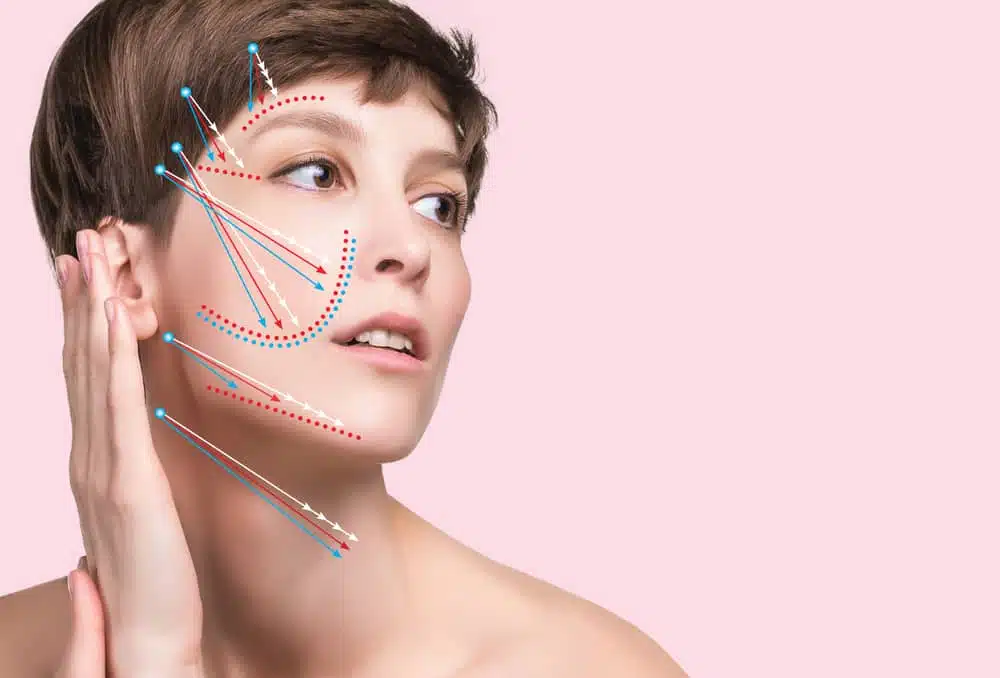 More and more patients are coming in to see me these days to discuss facial rejuvenation. Living our life on Zoom and FaceTime is convenient, but it also means that we've all been staring at our faces a lot! And yes, facial aging is part of life. However, this does not mean that you need to just accept it if you don't want to.
I offer my Boston area patients a wide range of surgical and non-surgical facial rejuvenation options. While most want a non-surgical procedure, there comes a point where your skin and facial tissues will sag beyond these treatments ability to improve tone. But maybe you don't want surgery or even need it quite yet. A thread lift can be a wonderful in-between option. So, how expensive is a thread lift?
What is a Thread Lift?
A thread lift is an old procedure that has undergone its own facelift in the last decade. The procedure itself is an alternative to Facelift surgery so it can be considered a "nonsurgical facelift" and involves inserting any number of specially designed threads to lift the skin and tissues on your face, jaw and neck back into a more youthful looking contour. Furthermore, the "injury" of the threads stimulates and promotes your body's collagen production in order to heal. So, while, with time, the threads themselves dissolve, you are left with a smoother, tighter and more lifted looking face and/or neck that can last anywhere from 10-12 months.
I call a thread lift an in-between procedure as it does involve a couple of small incisions. However, they are so tiny that they don't even require stitches. And the procedure is performed in the office, under local anesthesia, with you returning to most normal activities immediately. I do ask my thread lift patients to avoid super strenuous exercise for the first couple of days, and novathreads Boston patients report mild tenderness in the area for anywhere from 1-3 days.
Am I an Ideal Candidate for a Thread Lift
I pride myself on always being honest about what, exactly, you can expect from any given procedure. A thread lift can be a fantastic option for the right patient. If you are someone who is in good overall health, and you are bothered by mild to moderate sagging in the lower face, or you have more intense sagging in the skin and tissues of your face, but you:
Don't want to deal with incisions & downtime of surgery
Have a medical condition that could make surgery dangerous
A thread lift could be a good solution.
Thread Lift Costs
The average cost of a thread lift, as with any aesthetic procedure, is going to depend on which areas we decide to treat. This procedure can address your:
Face
Neck & jawline
All three
In general, you can expect to spend anywhere from $1,200 – $1,800 for a thread lift on just the face. For thread procedure focusing on just the neck and jawline, about $800 – $1,000. And if you want to address your entire face, neck and jawline, as is a typical thread procedure, it will cost you about $2,000 to $2,500.
Why Thread Lift is an In-Between Procedure
While this procedure is considerably less expensive than a surgical facelift and has very minimal recovery time, the results are not permanent. This is why I refer to the procedure as a good in-between option. Injectables, like Botox® and fillers, are great for addressing the early signs of aging such as fine lines, wrinkles and volume loss. Fillers can also deliver some improvement in terms of skin tone, but neither can lift drooping skin. A facelift is the best option for addressing a moderate to severe amount of loose skin. But it is a surgical procedure and not everyone wants to deal with the incisions and anesthesia of an invasive alternative. A thread lift fills in the gap for patients who've moved beyond non-surgical treatments yet are not quite ready or willing to embrace a surgical option.
Are Thread Lift procedures safe?
Thread lifts are minimally invasive and therefore pose little to no risk of bleeding, extensive bruising, scarring, or other potential complications – as per the American Society of Plastic Surgeons. Risks become minimal with a surgeon with a high level of experience.
You might feel some itchiness, discomfort, and redness at the injection site afterwards, but these should pass a few hours after your treatment. People with sensitive skin may also experience light bruising, but this will eventually fade.
In some cases, people have experienced moderate to severe bruising or infections. If that happens, it's important to get medical help right away. After the stitches are removed, their skin should return to normal.
It is not recommended to get too many thread lifts in a short amount of time, as the risk of complications like scarring also increase; the areas around your temples and eyebrows are especially delicate.
Thread Lift to Improve Jowling
One of the most common and troubling problem areas for men and women is jowling. This is when the skin and tissues of the lower face start to sag, and you get those unsightly folds of skin around the outside of your mouth. It is not only incredibly aging, but it is also extremely prominent when looking down at your computer, tablet or phone. These cosmetic procedures can be a fast and easy way to subtly improve the look of the lower face, neck and jawline without:
Incisions
Downtime
Anesthesia
How to get the best Thread Lift results
Furthermore, though the results are not forever, if you amortize the money that you will spend on a thread lift over the duration of the results, you may find that this is a procedure that gives good bang for its buck. It can also be a nice way to "try out" a facelift without actually going under the knife. I often find it nice to combine this non-invasive procedure with Botox®, facial fillers and other non-surgical skin rejuvenation procedures for maximum results.
To find out more about a thread lift or any other surgical or non-surgical procedure with Dr. Sean Doherty at his Boston or Brookline office, contact us today or call (617) 450-0070 to schedule a consultation.