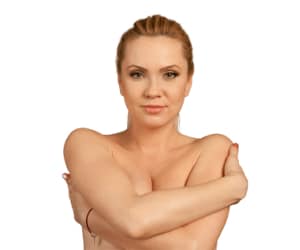 If you're interested in undergoing a breast augmentation procedure, you may be curious about which types of implants you should use and where they are placed. In general, there are two types of implants to choose from: saline implants and silicone implants. Saline implants are filled with a saltwater solution, while silicone implants are filled with a thicker – you guess it – silicone gel.
In general, most plastic surgeons use silicone gel implants, as they're much more confident in the safety and durability of the implant. Today's generation of silicone breast implants has thicker shells, more solid gel, and less leakage than previous models.
Additionally, silicone implants have less likelihood of wrinkling and palpability, even in patients with less breast tissue. That means no obvious wrinkling or rippling, which are typically dead giveaways of breast implants.
At board certified plastic surgeon Dr. Sean Doherty's practices – located in downtown Boston and Brookline, MA – he uses silicone gel implants for his breast augmentation procedures. He also uses the "No-Touch Technique" with the Keller Funnel, which allows him to insert the breast implant in a way that minimizes contact with the skin. This is the "No-Touch Technique".
The Keller funnel was introduced in 2009 as an efficient technique for inserting implants; the implant is slid through the funnel, which is coated with lubricant for seamless slippage. The implant is slid through the incision without requiring the implant to touch the skin.
As a result of this special type of procedure, the risk of bacterial or foreign body contamination is minimized; additionally, Dr. Doherty can use 95% less force to place the implant. All of these factors contribute to less swelling, fewer risks during the procedure and post-recovery, and less risk associated with capsular contracture and ruptured implants.
Interested in learning more about breast augmentation procedures using the Keller Funnel and the "No-Touch Technique"? Schedule your breast augmentation consultation with Dr. Doherty at one of his two practices in downtown Boston and Brookline, MA. Call the Boston office at (617) 450.0070 or the Broolkine location at (617) 735.8735 to learn more.