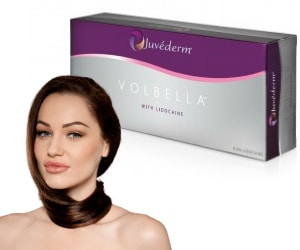 Whether you're a smoker or an older individual, it's highly likely that you've encountered those small wrinkles that snake out from your lip line. These lip wrinkles – also known as perioral lines – often form due to the loss of volume and collagen around the lips. Additionally, wrinkles can form due to exaggerated and repetitive motions, like smoking a cigarette, sipping on a straw and even excess selfies with a strong pout!
Fortunately, there's new FDA-approved injection that can help smooth away the appearance of aging lip wrinkles – and it will soon be available at Dr. Sean Doherty's plastic surgery practices in downtown Boston and Brookline, MA.
What is Volbella?
Allergan, the same pharmaceutical brand that makes Botox, Juvederm Voluma, and Kybella, designed Juvederm Volbella. Volbella was created for lip augmentation, as well as the treatment of perioral lines around the mouth. Volbella is made with Allergan's proprietary Vycross™ technology, which increases the product's durable while creating a more enhanced and natural appearance.
The FDA approved Volbella in June 2016, meaning it will be released to the market in the autumn. As a board certified plastic surgeon and Allergan Facial Aesthetics speaker and trainer, Dr. Doherty will be among the first professionals in the greater Boston area to offer the treatment to clients.
Who is Volbella For?
Volbella is suitable for Juvederm Boston patients who want subtle and smooth lip volumization, as well as the minimization of lip lines and wrinkles. There's no "trout mouth" associated with this treatment; everything is subtle, natural-looking, and designed to take years off of your appearance.
Additionally, Volbella is less hydrophilic than other fillers, meaning there's less swelling associated with injections. Volbella can also be used around the eyes in cases where fine lines need to be treated.
Results from Volbella injections typically last up to 12 months.
Volbella Injections In Downtown Boston
Want to be the first in line for Volbella injections? Schedule a Juvederm Volbella Boston consultation with Dr. Doherty at his practices in downtown Boston and Brookline, MA. Call the Boston office at (617) 450.0070 or the Brookline location at (617) 735.8735 to learn more.